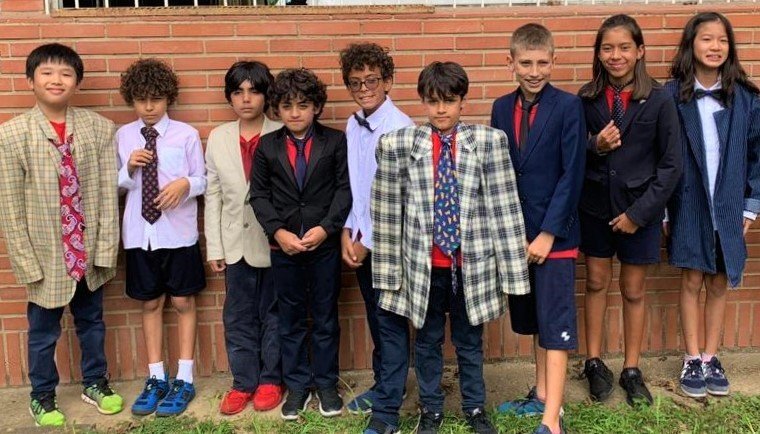 the cic experience
the cic experience
With roots that date back more than a century, CIC looks toward the future while at the same time honoring the past.
For decades, CIC has exhibited a strong sense of purpose, and have kept children at the center of its efforts.  We continue to embrace the balance between the home-country experience and the needs for an international mindset.  Today, CIC continues to provide a strong sense of purpose, recognizing that there remains a need for a truly personal educational experience here in Caracas. 
For decades, our hilltop campus provides the perfect backdrop to the CIC learning experience. Coupled with what we see as an optimal community experience, CIC continues its tradition of excellence and embodies the spirit of its founding.
The CIC MISSION is to provide excellence in a PN-12 English-speaking environment, and fully prepare each student to prosper in a borderless and innovation-based world.
The CIC VISION is to become Venezuela's most aspirational PN-12 learning environment.
community voices
community voices
CIC's inviting and engaged community will make you feel right at home.  Whether you are new to Venezuela, or whether you are transferring from another school, the CIC community assures all are welcome.  From students of all ages to our parents and teachers, the CIC campus celebrates strong relationships and surprising communication and support.

Hannah
Venezuela & England, Grade 12
"CIC is a place to learn and practice leadership.  I get to join decision-making activities, and have learned how to deal with leadership issues.  In clubs like Green Team, STUCO, and Model United Nations, my voice is heard and students can share their values.  CIC offers a very personal philosophy for learning where teachers know you and challenge you.  CIC helps you grow as a globally-minded person and to deal with different people and perspectives.  When you are a senior you want to leave your mark. As an example, I donated cutlery to the canteen that is used by the entire community.  We no longer need plastic forks and spoons, and it makes the school greener.  And I plan on leading things that have more environmental and social impact this school year."
Hasna
Italy & Venezuela, Grade 10
"Each day I meet my friends in the library – it's where we go to share ideas and relax, and it's my favorite place at CIC.  My friends who have moved away say the CIC library is the best.  And classes are great too.  In Humanities, I am learning about world events, and I am studying the causes of the US Civil War – my classes are super-interesting.  Beyond class, we have the opportunity to be part of many different clubs and share new ideas.  Two years ago the students started a newsletter independently and now I am the editor.  I get to write about interesting and controversial issues – it's a way that I express myself and represent CIC.  All of this is part of the IB's Middle Years Programme (MYP).  The MYP assures we have more learning interaction – it's dynamic.  I now see how learning at CIC affects my future.  I am already meeting with my university counselor so I know how to prepare for life after CIC.  I'm tracking my volunteer hours and participating in clubs like Model United Nations."
Juliette
Germany & Spain, Grade 7
"Right now, my favorite subjects are Math and Humanities and my teachers are great.  I'm developing my own number systems and now I really love math.  In fact, I really love the projects in all my classes! In Humanities, we are making our own maps and studying cartography to find objects that have been hidden across the campus by our teacher.  We're using teamwork and creativity to solve the clues and find the items.  As a middle schooler, we are getting more freedom and we participate in more activities.  My favorite event here at CIC is the Welcome Back BBQ – the food is the best and it's for the entire CIC community."
Jake
United States, Grade 5
"I have been to school in the United States, China, and Jamaica, and CIC is the best by far!  I have good teachers and great friends. I love how we get outdoors every day so we can breathe the fresh air and have recess.  Right now, I have an after-school activity called Elementary School Basketball – it's my favorite sport!  When I get older, I want to be a veterinarian or a herpetologist so I can study snakes and animals.  In my class, I get to read books on snakes all the time so when I get older I can dedicate my life to saving rainforest species."
January 2021
M
T
W
T
F
S
S
1
2
3
4
5
6
7
8
9
10
11
12
13
14
15
16
17
18
19
20
21
22
23
24
25
26
27
28
29
30
31
Contact us today.
we are here to help.
Want to speak to someone directly? Please send us an email.